To Access your Distributors Store who sent you to this Site, go to the Distributor page and click on their Photo.

Take the Spark Challenge NOW!!!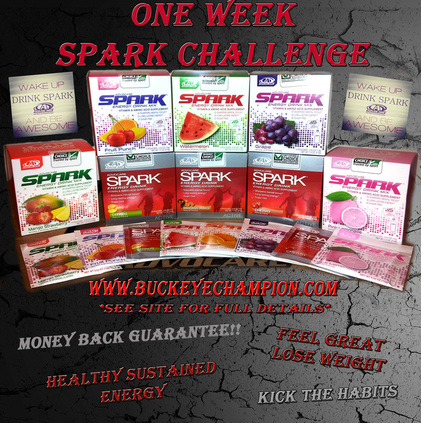 We have put together Special Boxes of Spark that contain 14 Servings and all 8 Flavors for this challenge. Here's How it works...Buy the Special Box of Spark for 22.95 +T&S and switch out whatever your currently drinking in the day to two sparks and water for your liquid intake. When the week is up if you decide that you would rather go back to the Soda, Sweet tea, red bull, Starbucks, Etc...We will buy you a $10 gift card for your "relapse" spending...LOL! BUT if you decide that you would like to continue using Spark and get it at a discount we will put $20 towards your discount membership!!! Spark is a Healthy Energy Source that helps you kick the unhealthy habits while providing great nutrition all at the same time! Now is the Time! TAKE THE CHALLENGE!!!

---